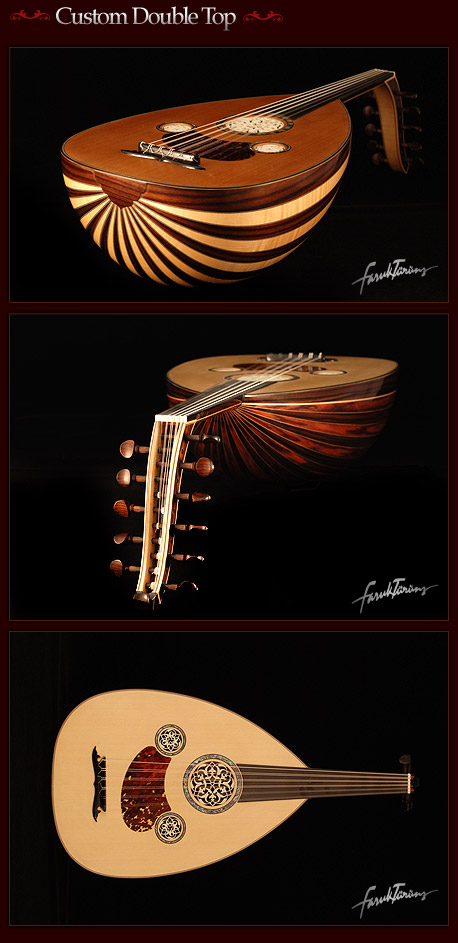 Top quality Double Top Oud featuring Turkish and Arabic Tuned Bracing System.

Base Price: 4800 USD

Base Specifications:
Canadian Red Cedar or Caucassian Spruce wood for double top.
Walnut, Padouk, Mahogany, Cherry, Pear, Movingui, Indian Laurel, Teak, Wenge bowl, neck and peg box woods.
Mother of pearl rings around the rosettes.
Long fretboard.
Trespa or ebony fretboard wood.
White plexi rosettes.
Ebony or Rosewood pegs.
Turtleshell or bowl wood pickguard.
Bowl wood or rosewood bridge.


Extra Options:
Exotic woods:
Dalbergia Spruceana (Amazon Rosewood) +300 USD
Dalbergia Latifolia (East Indian Rosewood) +300 USD
Dalbergia Cearensis (Kingwood) Quartersawn +300 USD / Flatsawn +500USD
Macassar Ebony +500USD
Gabon Ebony +500 USD
Pommele Sapele +500 USD
Juniper +300 USD
Curly Maple +300 USD
Burma Teak +300 USD
Santos +300 USD
Purple Heart (Amaranth) +500 USD
Palisander Rio (Nigra) +1000 USD

Rosette:
Rosewood, Walnut, Maple +100USD
Double Layer +200USD
Double Layer with Mother of Pearl +300USD

Pickguard:
Same with Bowl Wood +100 USD
Pickguard (Wood + Wood) +200USD
Pickguard (Wood + Mother of Pearl) +300USD
Mother of Pearl Rings:
Around the Rosettes (for Double Top) +300 USD
Armrest:
Ebony, Trespa, Rosewood +100 USD
Soundboard Finish:
Finishing with Lacquer +100 USD
French Polish +200 USD
Size Customization:
7 Course +200 USD
Neck and String Length +100 USD
Handmade Custom Hard Case
for Faruk Türünz Ouds:
+300 USD
All other Custom Specifications are subject to discussion.
Additional charges for shipping and handling.